Description
AGB Touch – Sliding Door Latch
Product Information
Forend: 18mm
Material: Steel 
Product Description
Open the door with the most simple and natural gesture: a touch! 
Contactless magnetic door cather: the catching force can be adjusted and guaranteed, no matter the distance between sash and frame. Suitable for gaps from 2 – 5mm. 
In systems with fixed magnets, the force decreases without possibility of adjustment by the increase of gap between sash and frame.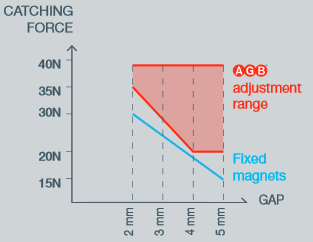 With Touch, the handle is released from the unlock function: it just helps ot push and pull the door. The designer's creativity is free to create new handle shapes and to intergrate the handle in the door design. 
The release of magnets happens only when the sash is aligned to the striker. The magnets throw can be adjusted by using a 2,5mm allen key. Touch definitely avoids the adjustment problems of roller latch. When the door is open, the magnets retract and stay flush with the forend, giving a minimal design to the door and avoiding problems caused by any protrusion. 
Removable cover with clip hids the fastening screws and the adjustments grub of magnets. 
Touch can be interchanged with existing milling installation for the Polaris 2XT. 
Key Features
Absolute freedom to choose the handle 
Minimal design, no visible screws 
Patented adjustable system of catching force 
For futher information on this product please click here 
What is included
Touch adjustable magnetic door catcher

Forend cover
Magnetic striker for wooden or aluminium frame (upon request)

Availability : 4 – 6 weeks